Denigration
"Insatiable" Has an Uneven Approach Towards Asian-American Representation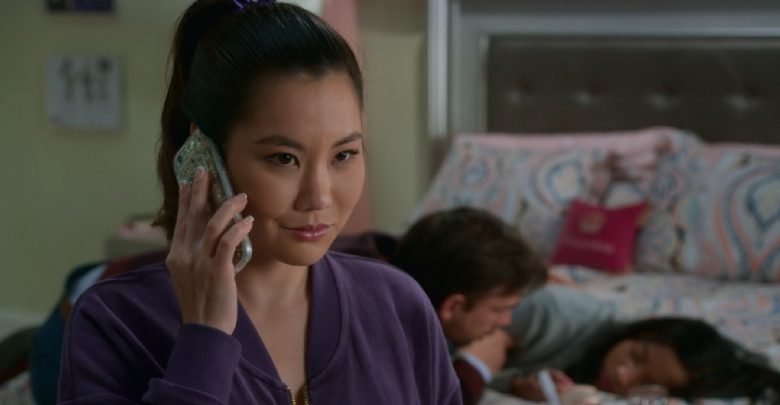 In a recent op-ed for Plan A Magazine, Oxford Kondō presented a convincing – and disconcertingly Darwinian – hypothesis: Asian-American male representation tends to improve when white or black women are helming the production, while Asian-American female representation simultaneously suffers. (The reverse tends to be true when white men are responsible for the creative decisions). Insatiable, a highly controversial Netflix original series created by Lauren Gussis, does not deviate from this general trend. The show wastes no time to set up Irene Choi's Dixie Sinclair as nemesis to Debby Ryan's Patty Bladell. Characterized mainly by her desire to win all beauty pageants in sight regardless of the ethical costs incurred, she has absolutely no redeeming qualities.
"Dixie Sinclair could go all the way. There was just one problem: her personality."
We learn nearly everything we need to know about Dixie in the show's first episode since Insatiable grants her no opportunity for character development. Her insatiable need to win and her lack of a moral compass can be attributed partly to her (adoptive) mother Regina Sinclair, the show's cartoon villainess. Apart from being selfish and mean, neither are particularly bright or politically aware. Regina first lines on the show announce that she and Dixie have "came up with a great argument for keeping trannies out of the ladies' room". Dixie's ignorance towards all things political are reinfornced when she fumbles an interview question about ISIS by confusing it for "ices". When this costs her the crown, Regina storms on stage to demand a rematch. She dramatically and falsely accuses Dixie's coach (Bob Armstrong) ofmolesting her: "He touched her hoo-hoo!"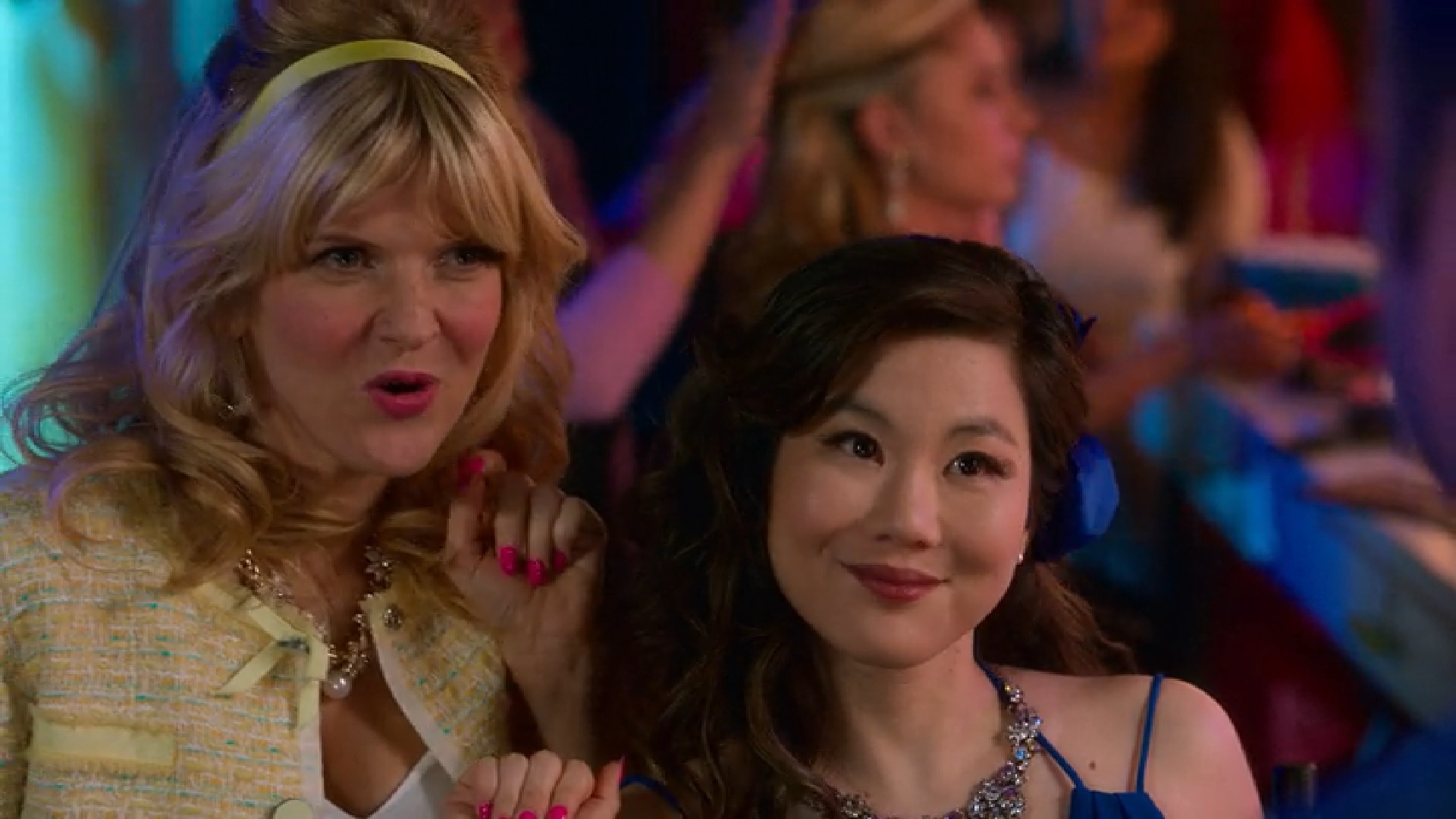 Like mother, like daughter.
From then onward, Dixie's attempts to secure a pageant crown for herself only becomes more comically desperate and unethical. To her credit, Dixie is not entirely lacking in self-awareness. She lists "shooting guns, talking shit, sabotage" as her talents and appears to be laden with mental health issues: "I got OCD, overfocused ADD, and I'm on the spectrum." (Meanwhile, her competitor Magnolia describes her as a "horrible gremlin" and a "pocket-sized Satan"). After going along with her mother's wild accusation, Dixie attempts to make a "citizen's arrest" of Patty with her pink gun. She spikes Magnolia's coffee with booze to take advantage of her drinking problems and take her out of an upcoming pageant. She enlists the help of a hacker to send out nude photos of herself through Patty's phone to create the impression that Patty is a cyber-bully (who thus deserves to be disqualified from the Miss Magic Jesus pageant).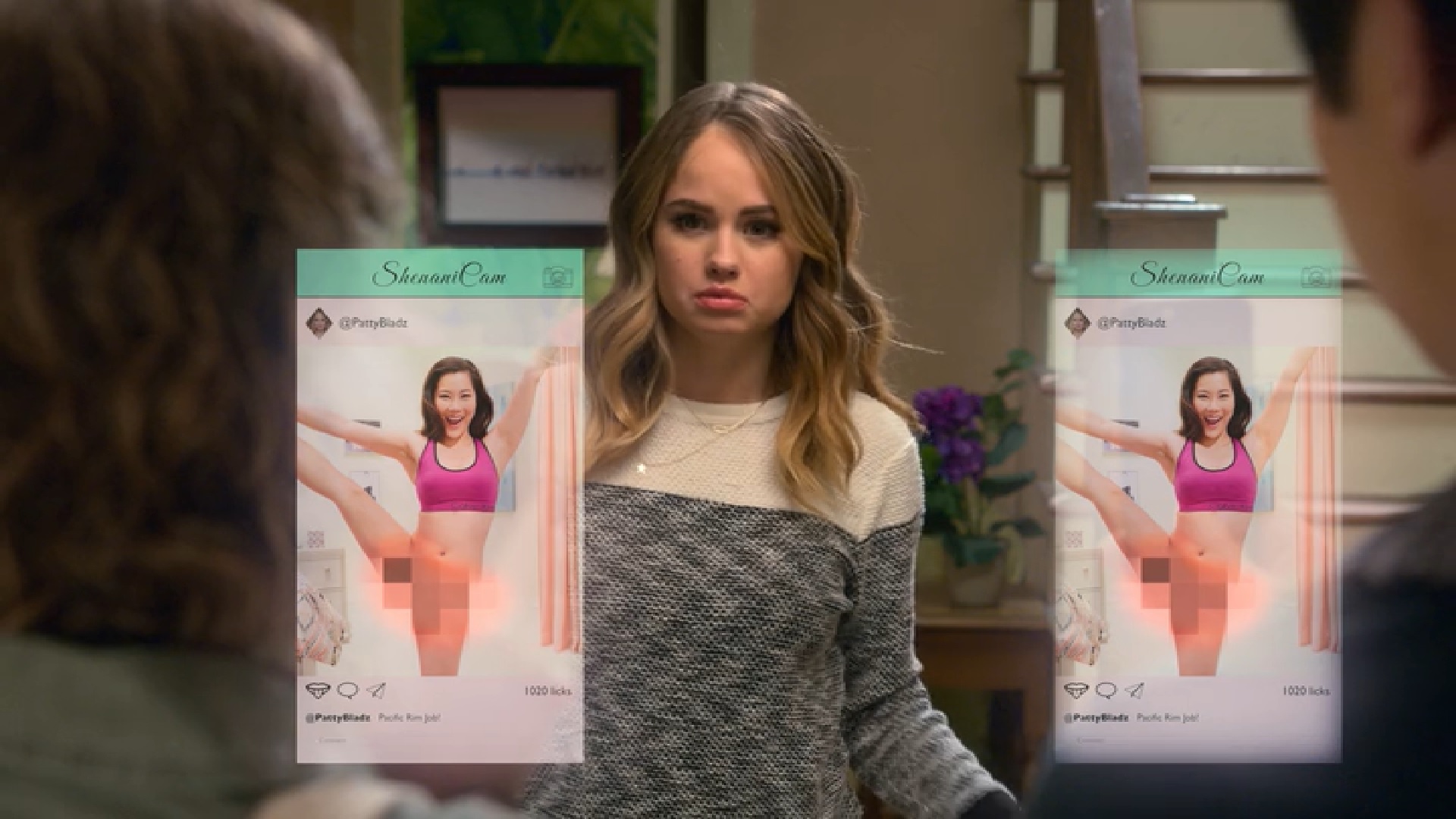 "Why the hell did you send out a picture of Dixie Sinclair's hoo-ha to the entire school?"
Dixie's pathologically competitive nature is symbolized by her shark-like teeth, which are revealed after Patty punches her with enough force to knock out her tooth caps. Patty then pushes her down from the roof of a taco truck (Dixie jumped on it to wrestle Patty's crown from her head). Dixie then turns from a "lying bitch" into a "bitch on wheels", earning sympathy from the community after the fall made her wheelchair-bound. Of course, this turns out to be another stunt. Dixie is eventually outed for having faked at being a paraplegic the whole time. This offensive ruse was eventually intended to turn Dixie into a local hero: the "adopted pageant girl [who] miraculously learns to walk again".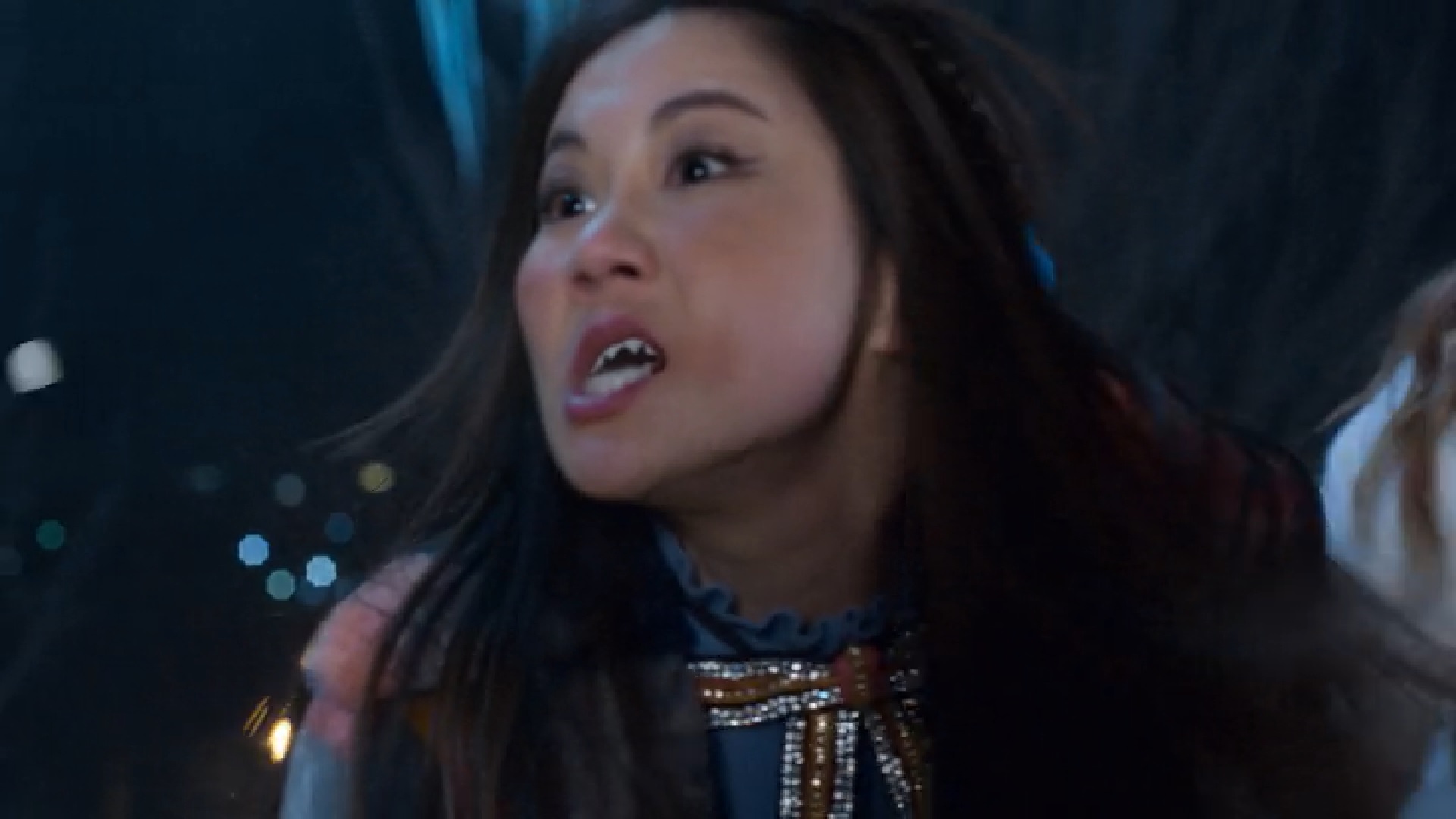 "Holy shit, she has fangs!"
The show's writers never explicitly attribute Dixie's grotesque behavior to her race, but it never discusses her ethnic identity in a meaningful way. For the most part, Asian references are included as cheap jokes. Regina attributes Dixie's unusual teeth to the fact that she was "malnourished in China" and lovingly refers to her as a "shrimp dumpling". When defending Dixie's prospects of winning a pageant, she quips "Don't you know everything good comes from China?" On Teen Roulette, a chat app where teens share photos of their genitalia anonymously, Dixie goes by "Pacific Rimjob". When Donald Choi (Daniel Kang) refers to their (short-lived) relationship as a cliche ("We're the only two Asians at school"), however, Dixie is offended: "I am not Asian. I am adopted!"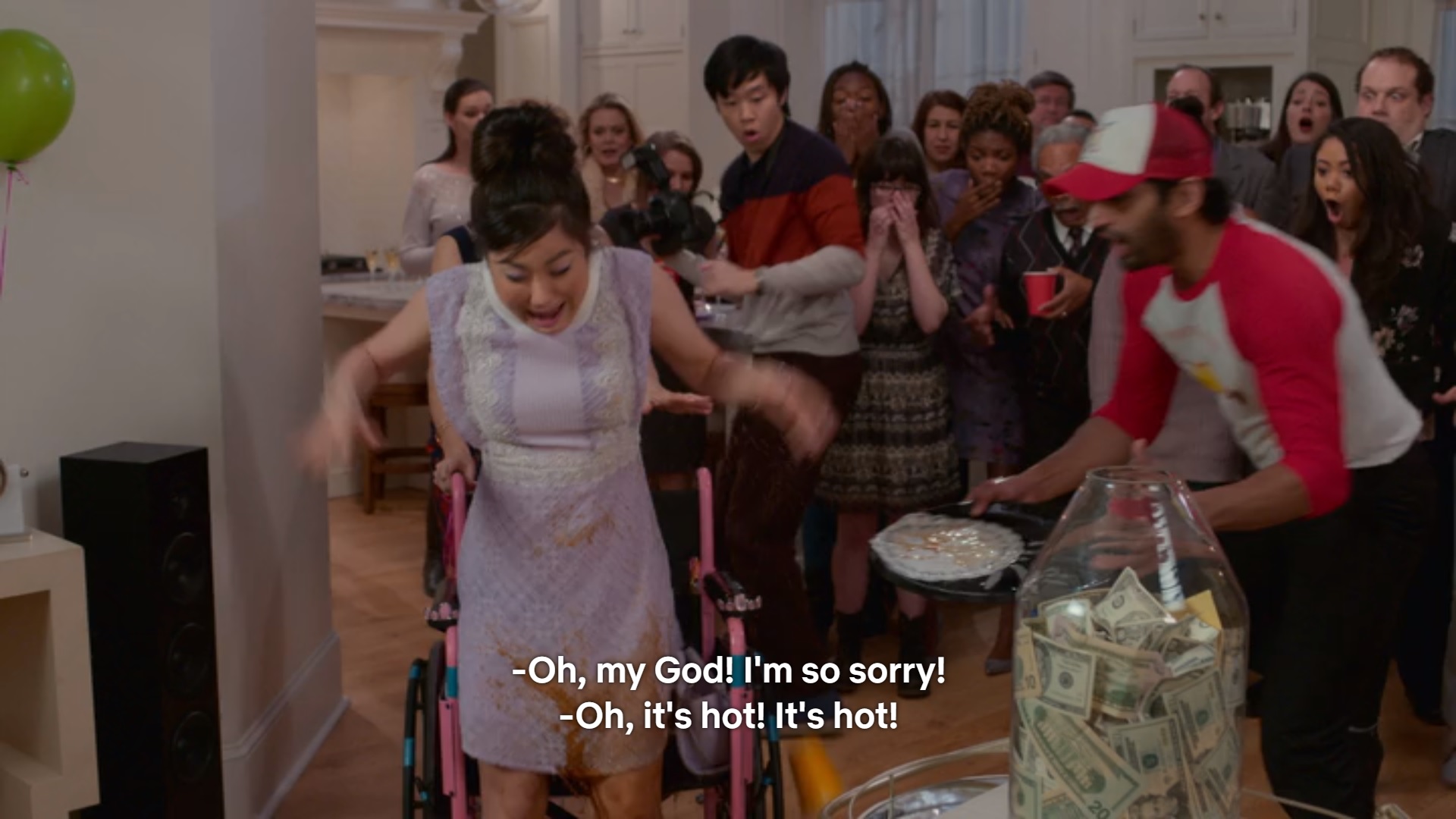 A spilt drink spoils Dixie's paraplegic bluff.
In her defense of the show against a flurry of criticism, Lauren Gussis concurred that Dixie has intentionally set up as the show's primary villain:
"I think that everybody needs to do the work on the inside to be a better person, including the people who are the bullies. I mean, the people who are the bullies in this show are villains. Like, there's no part of me that has made anybody a hero whose [behavior is bad]. Dixie Sinclair, who's the worst of the fat shamers in the show, is a horrible person who has been raised by a horrible person. She gets her comeuppance. I think that in terms of punishing the people in the show who are the worst, they get their comeuppance."
Dixie and Regina do get their "comeuppance". Both become homeless towards the end of the show. Neither is given the chance to repent, grow, and transition into a "better person". One could argue that Irene Choi is playing "against type" by participating in the recent trend of Asian mean girls in high school narratives. This may be true, but her one-dimensional characterization also misses out on the opportunity to meaningfully explore how race – alongside body size – plays a critical role on the stages of America's real-life beauty pageants. Instead, young viewers who may not be so attuned to the show's camp sensibilities are likely to view Dixie as a complex of Asian-related stereotypes: the hypersexualized Asian woman, the conniving Chinaman, and the uber-competitive Asian student.
Donald Choi is initially characterized as a sex-deprived teenager working in his father's grocery store.
In contrast, Donald Choi is given the opportunity to become a multi-dimensional character. He is initially presented as Patty's awkward and horny schoolmate who works in his father's grocery store. To get out of jail, Patty seduces Donald to lie for her in court. Patty and her best friend Nonnie eventually catch Donald jerking off to security camera footage of Patty showing him her breasts in exchange for the favor.
Red-handed: Patty and Nonny find Donald jerking off to security camera footage of Patty flashing her breasts.
Within a few episodes, Donald goes from the teenage boy who "never had a friend who's a girl before" to a serial dater. He engages in a brief sexual relationship with Dixie, but eventually breaks up with her: "She was just using me for my dong […] All I wanted to do was take her out to dinner but she did not want to be seen with me in public." After that, he briefly embarks on a romantic relationship with the closeted Nonnie. He helps her come to terms with her sexuality; she helps deal with his self-esteem issues: "You're smart and sweet and handsome". While not groundbreaking, the characterization of Donald Choi does humanize the once-ubiquitous "sexless Asian nerd" stereotype.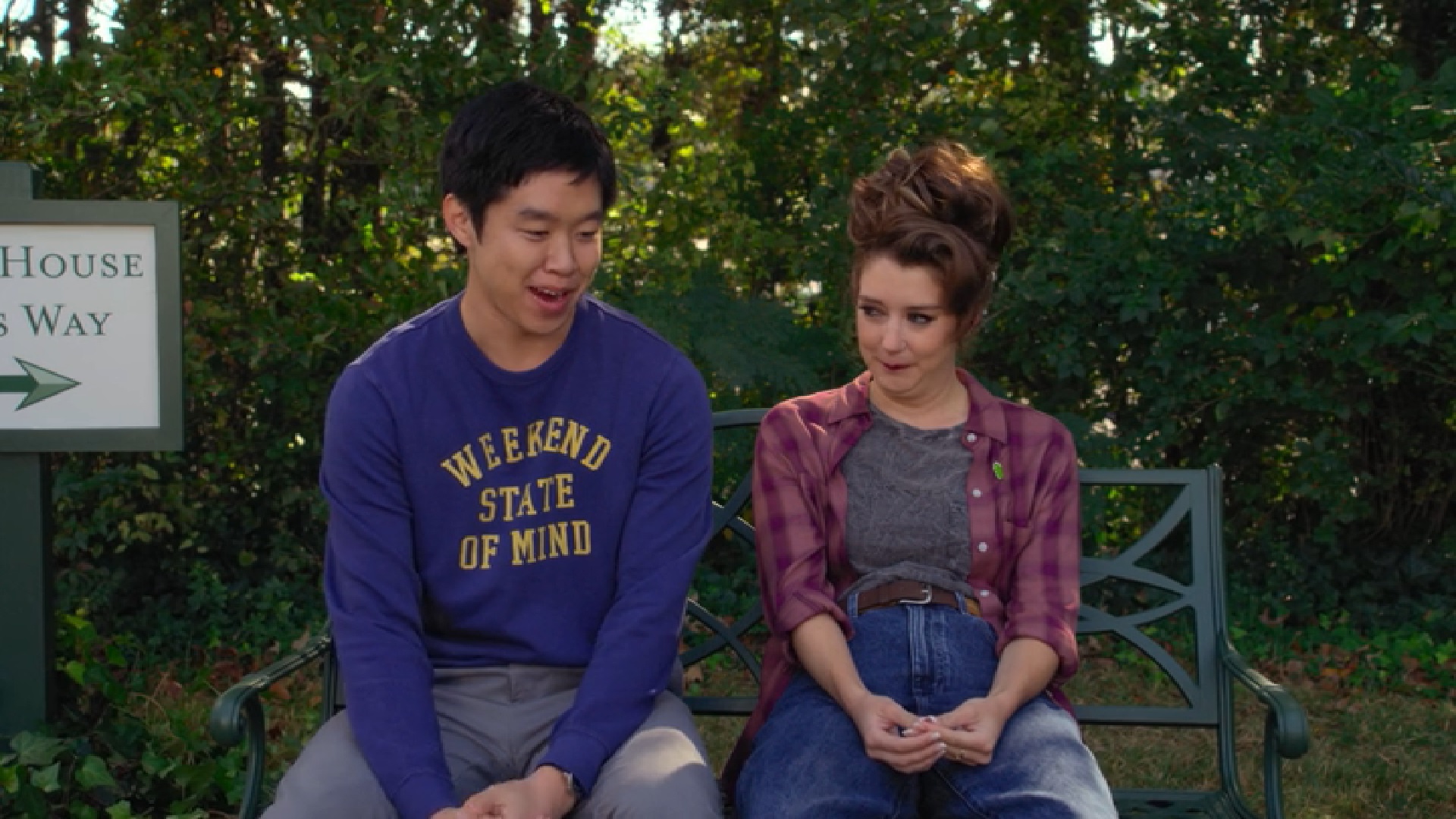 Donald Choi eventually gets the chance to become a more rounded character through his friendship with Patty and Nonnie.
As of July 2018, Netflix has phased out user-submitted reviews. You can voice your concerns by contacting them on Twitter (@netflix), calling them at 800-852-6334, or by submitting a user review on Metacritic.
OFFENDER: Netflix
CATEGORY OF OFFENSE: Denigration ( Reinforces Stereotypes)
MEDIA TYPE: TV Show
OFFENSE DATE: August 1, 2018