Denigration
Netflix's "You" Perpetuates Hollywood's Sexual Racism
You, Netflix's new binge-worthy psychological thriller about an obsessive and psychotic New York bookstore manager, is far too unrealistic to provoke discussions about racial representation. It is worth noting, however, that practically all of the Asian-American characters that appear in the series were not present in the source novel by Caroline Kepnes (or were not explicitly written as Asian). In characterizing these superficially Asian characters as being 'unlikeable' – like the show's central white characters – the show's writers draw from all-to-familiar stereotypes:
Lynn Lieser (Nicole Kang): Hypersexualized as Usual
As Lynn, Nicole Kang is the most prominent Asian American character in the series. Like the novel, Lynn serves as one of Beck's rich and entitled "two-faced friends". The TV adaptation turns her into an adopted Asian daughter of a (presumably white) surgeon and a tech CEO, with "all of the smugness, none of the angst." Joe describes her as being vapid ("a dark cavern where conversations go to die") and a raging alcoholic ("What personality she has is only activated by low-calorie girly cocktails, which is doubtless why she drinks so much").
These qualities would have been sufficient to make Lynn unlikeable and unrelatable to the audience – and to do justice to the novel's description of Lynn as being "dead inside, like a corpse" and a chronic Instagram addict. Instead, the show's writers also tap into the Orientalist trope of the hypersexual Asian women – who are systematically paired with white men.
While Lynn's sexual exploits are never depicted, she reveals that she has over 200 dick pics saved in her phone. Her personal 'Guggenheim' features the following categories: "fat bats, boomerangs, banana boats, late bloomers, and Jewish guys." Later on in the series, she confesses to Joe that she needs to help him plan Beck's party to distract herself from her promiscuous tendencies: "If I bury my sorrows in any more booze and boys, I'm going to get syphilis. Again."

Naturally, Lynn is then briefly depicted flirting heavily with a white man she just met at Beck's birthday party.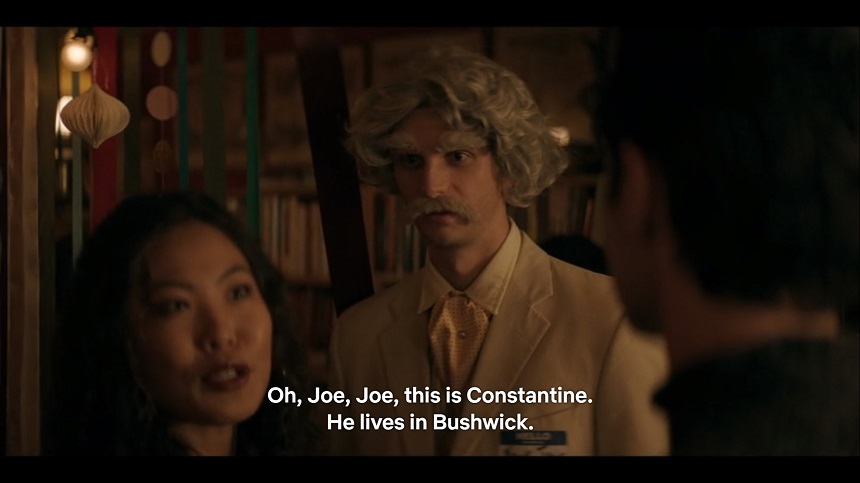 2. Raj (Gerrard Lobo): a New Form of Emasculation
Raj does not exist in the novel; he is introduced during Peach's plot to seduce Beck and is the only Asian American male character that appears in the series. Peach Salinger is a closeted lesbian with a long history of obsessing over her best friend. In episode 6 ("Amour Fou"), Peach invites Raj – a fellow Brown University alumnus who is now pursuing medical school – to her secluded mansion to (1) provide her and Beck with drugs and (2) initiate a threesome that will allow her to pursue Beck without outing herself.
Beck consents to a "platonic massage train" on Peach's bed, but rebuffs her best friend's advances when Peach starts kissing her. After Beck exits ("I have a boyfriend"), Raj and Peach continue to have (offscreen) sex without her. The camera focuses on Joe, who is hiding underneath the bed. Before long, Peach's hand reaches down beneath the bed to retrieve her collection of (penetrative) sex toys.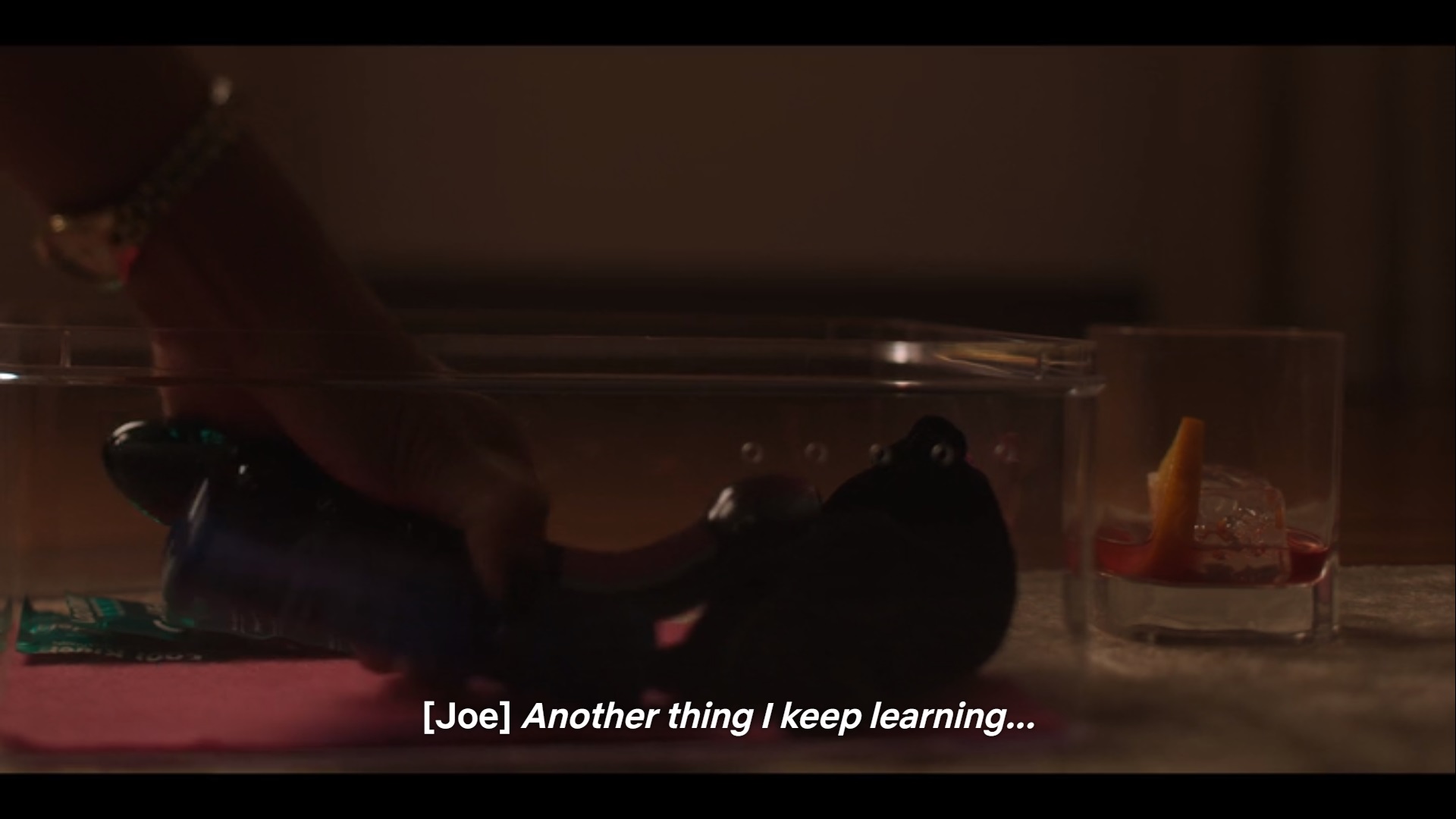 Joe then makes a private joke as Peach initiates an unexpected sexual role-reversal offscreen:
Peach: You want this?
Raj: I don't not want it.
Peach: Okay. Here he comes, Big Daddy.
Joe [to himself]: Oh, Beck, I'm so boned. But not as boned as Raj is about to be.
Raj: Oh, God, that's interesting.

3. No Asian Last Names
There are two positive Asian characters who appear briefly throughout the series, but both of them are presented with Caucasian last names without explanation. Casual viewers may not read any significance into this phenomenon, but it implicitly reinforces the Orientalist pairing between Asian women and white men.
Manini Gupta as Maddie Johnson, a concerned friend of Joe's missing ex-girlfriend
Christine Toy Johnson as Allison Mott, Beck's supportive creative writing professor
No one really expects an implausible psychological thriller like You to make a positive impact on Asian American representation. The casual appearance of Hollywood's sexual racism – hypersexualized Asian women, emasculated Asian men – via side characters in ways that are wholly absent from the source text nevertheless point towards the show's writers ignorance towards the problem of anti-Asian stereotypes. The audience is prompted to sympathize with the supposedly unlikeable white serial killer and to empathize with the African American and Hispanic characters, but their main Asian characters are unique in being unlikable and undeserving of empathy.
You has been renewed for a second season. You can contact the show's developers – Greg Berlanti (@GBerlanti) and Sera Gamble (@serathegamble) – on Twitter to voice your concerns.

CATEGORY OF OFFENSE: Denigration ( Reinforces Stereotypes)
MEDIA TYPE: TV Show
OFFENSE DATE: December 1, 2018