Media Property: Dads (Fox)
Media Type: TV Series
Dads was an American sitcom which premiered on September 17, 2013 on Fox. The series was created by Alec Sulkin, Wellesley Wild and Mike Scully (Family Guy's Seth McFarlane served as executive producer), and follows the exploits of Warner and Eli: two successful video game developers who find themselves having to cope with adult life after their fathers move in with them.
While critics and audiences will undoubtedly have many points of criticisms regarding the show, its treatment of Asian American actress Brenda Song's character Veronica (Warner and Eli's assistant) is particularly problematic.
From the get-go, her character's Asian ethnicity is singled out for low-brow comedy based on familiar stereotypes. When she enters the scene, Eli and Warner are both complaining about their fathers.
Veronica: "Well, you're lucky your dads are American. My dad beat me with a math book till I was 16."
Offence 1: Asian parents only believe in strict tiger parenting (the kind that verges on child abuse) and academic success above all else.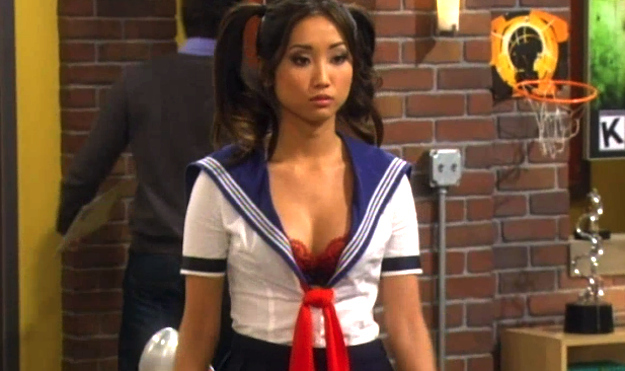 As the scene progresses, Eli and Warner ask for Veronica's 'help' in making a business pitch to their Chinese investors.
Veronica: "Because of my intimate knowledge of Chinese culture?"
Warner: "No, because you're going to dress up like a sexy Asian schoolgirl."
Song not only agrees to dress up in the outfit she also agrees to act 'kawaii' and giggle like an anime caricature to impress the Chinese businessmen. When she appears in the Sailor Moon outfit, with the buttons undone down to her lacy red bra, Warner howls, "Hellooooooo, Kitty!"
Offence 2: Asian women are only valuable for their sexual charms in the workplace, and gamely take on demeaning tasks to please white male superiors.
The ploy eventually works, although not in the way Eli and Warner intended it to. The Chinese translator who was at the pitch takes a photo of her, and then sexts her a picture of his penis (which the show specifies to be a 'tiny penis'). Veronica uses the photo to blackmail him, and the deal is sealed. After being congratulated, all three of them stand around her phone to look at the picture.
David (Peter Riegert): "It looks like something you'd pick out of a salad."
Warner (Giovanni Ribisi): "It looks like a cashew in a shag carpet."
Crawford (Martin Mull): "I see an inchworm in a little tiny fireman's hat."
Offence 3: Asian men are presented as being sexually inept and dehumanized by a racist stereotype.
At a panel during the Television Critics Association Press Tour, the show's executive producers (Wild, Sulkin, and Mike Scully) sidestepped questions about show's tone-deaf approach towards racist and sexist jokes:
"We didn't think that was a socially provocative moment or we were answering some societal question by putting her in a sexy outfit. We thought it would kind of lead to a funny scene. And if that didn't land with you guys or with a lot of people, we understand that and we're trying to learn the things that land and don't and, you know, learn from that and change them in upcoming shows."
(Source: Buzzfeed)
Two weeks later, Guy Aoki, founding president of The Media Action Network for Asian Americans (MANAA) sent a letter addressed to Fox executives, demanding that the scene with Veronica as a 'sexy Asian schoolgirl' be reshot:
"Our community can't continue to be the target of racially insensitive jokes. Fox has an opportunity to fix fatal flaws in the pilot and to improve the show's chances for success when it premieres next month. We are asking you to reshoot the inappropriate scenes of the pilot. Considering the consistent feedback from our community and television critics in general — and the creators saying they hadn't properly defined their characters nor gotten used to their actors when they shot that first episode — this sounds like a no-brainer."
Aoki also criticized the line of dialogue where Martin Mull's Crawford refers to the Chinese businessmen as "Orientals":
"[N]o one corrected him (will he later call blacks 'negroes?'). He later warned his son that he couldn't trust the Chinese, that 'there's a reason Shanghai's a verb.' Supposedly all was made right when the Chinese agreed to the deal after the 'creepy interpreter' sent a picture of his penis to Song, who, predictably, said that it was tiny."
(Source: The Hollywood Reporter)
One line of defence for the show's racially insensitive comedy was that the main characters (Warner and Eli) are supposed to 'learn' from their fathers' out-dated and inaccurate racist worldviews. But instead of having the audience laugh at Warner and Eli for their racist mindsets, the show encourages the audience to laugh with them – reinforcing the very stereotypes that were supposed to make the older generation seem out of touch.
Fox tried to sell the show by claiming that it did not matter that critics had a very low opinion of it (it has a metascore of 15 on Metacritic, which indicates 'overwhelming dislike'), the fans would laugh at the jokes anyway and not see anything offence in the show's gags – but it turned out that most TV viewers did not find its racist humour particularly funny or sufficiently entertaining either. The show was cancelled after its first season.
OFFENDER: FOX
CATEGORY OF OFFENSE: Denigration ( Reinforces Stereotypes)
MEDIA TYPE: TV Show
OFFENSE DATE: September 1, 2013
URL: Click For More