Gender
The Rookie (ABC) Has an Asian American Representation Problem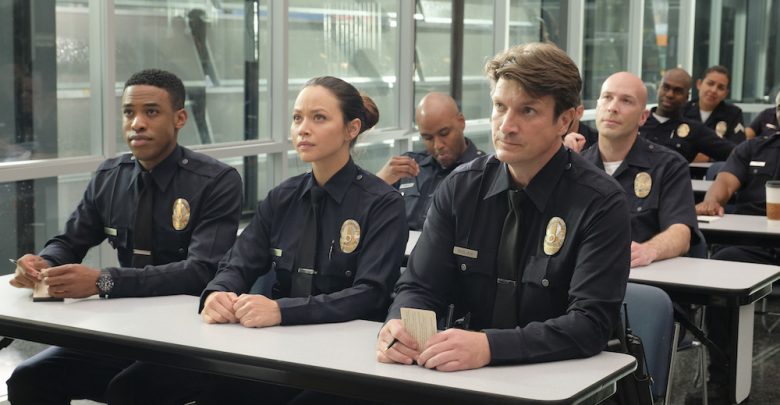 The Rookie, a new crime drama produced by ABC Studios and The Mark Gordon Company, largely sticks to the tried and tested formulas of the police procedural genre. Its main premise, however, does feature a slight twist. At 40, its titular character John Nolan (Nathan Fillion), is the oldest rookie in the history of the LAPD. (A divorce and a bank robbery prompts his career change at the age of 40). Likewise, its fictional representation of the LAPD hierarchy involves significant female leadership – a white female captain, female African-American and Hispanic training officers aspiring to become detectives – in a traditionally male-dominated sphere. Unfortunately, the series regresses to Hollywood's familiar pattern of sexual racism when it comes to Asian-American representation.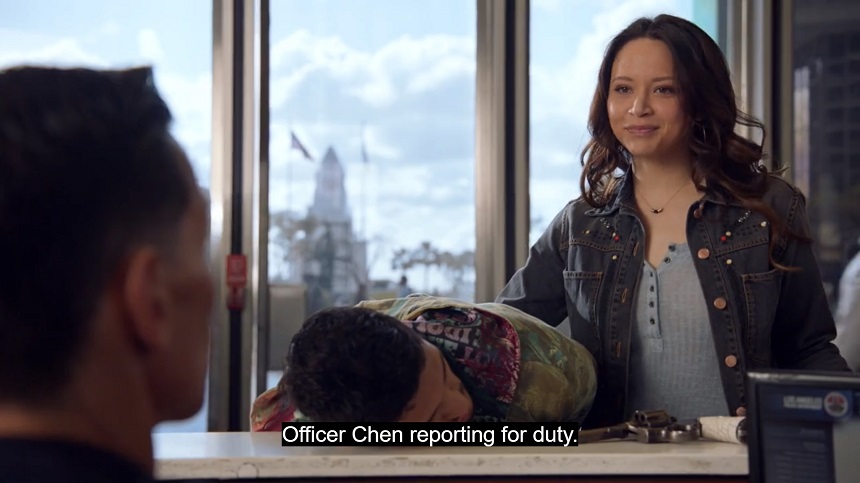 As far as first impressions go, Melissa O'Neil's Lucy Chen is a positive step for female Asian-American representation (O'Neil herself is Canadian, with an Irish father and Chinese mother). Lucy's ethnicity is never a talking point; she is mainly characterized by her stellar performance in the Training Academy and her aptitude for the job: "a hotshot who made her first arrest before clocking in for work". She gets the opportunity to prove her mettle in the very first episode when her overbearing training officer (Eric Winter) is shot in the abdomen during an armed confrontation with criminals on the run.
As Hollywood Reporter reviewer Daniel Fienberg observes, however, her "badass first appearance is later undermined by a romantic subplot stuck between "icky" and "unconvincing". Towards the end of the first episode, we learn that Lucy and Nolan are actually lovers and not rivals. No backstory is provided; the two of them presumably began their affair while they were both students in the police training academy. The relationship makes little sense when one considers Lucy's general devotion towards the job, but it falls firmly in line with the Hollywood tradition of excluding Asian American men while categorically pairing Asian American women with white men.
Lucy is able to make even-headed decisions when thrust into life-and-death situations on the job, but is too infatuated with Nolan to see how their relationship will inevitably jeopardize her professional aspirations. The show leaves it up to Nolan's cool-headed Training Officer Talia Bishop to help Lucy make the right choice:
Talia: Learning how to be a cop is the hardest thing you'll ever do. And instead of focusing everything you have on the task at hand, you split your focus to be with Nolan. And you risk losing it completely if you're ever found out. You think you're the first rookie to date a cop? This city is littered with the failed potential of rookies like you.
Lucy: With all due respect ma'am, there are no other rookies like me.
Talia: Don't fool yourself, Boot. They're all like you. And the only ones who make it through are the ones who take their job so serious that they put everything else aside.
After Talia's provocations, Lucy and Nolan mutually decide to end their relationship at the end of episode 4. In episode 8, however, the two reconnect in the wake of Nolan's traumatic experience of shooting – and killing – an armed robber in an act of self-defense. As Lucy showers, the dead robber's brother breaks into the house to confront and kill Nolan. The stage is thus set for Lucy to intervene in episode 9 – and inadvertently expose their relationship to the rest of the LAPD. Lucy's treatment on the show may subvert old stereotypes of Asian women being passive, meek, and docile, but it aggravates modern-day perceptions of Asian women being "the least likely to be viewed as leaders and most likely to be fetishized."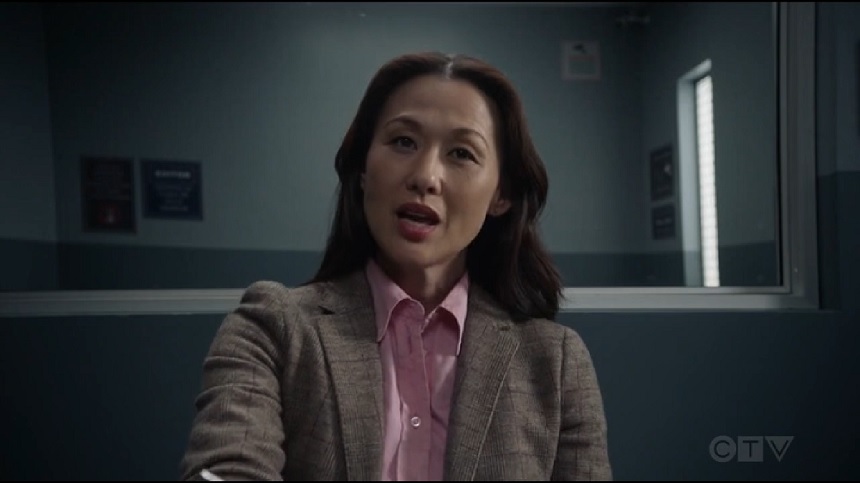 Korean-American actress Nicole Bilderback makes a brief appearance as Internal Affairs Detective Emily Barrett in episode 8
The cast of The Rookie appears to be racially diverse, but one should note the absence of any male Asian American or Hispanic officers in this fictional representation of the LAPD. When male Asian and Hispanic characters appear, they are nearly always presented as criminals (a few do appear as civilians throughout the show's first season).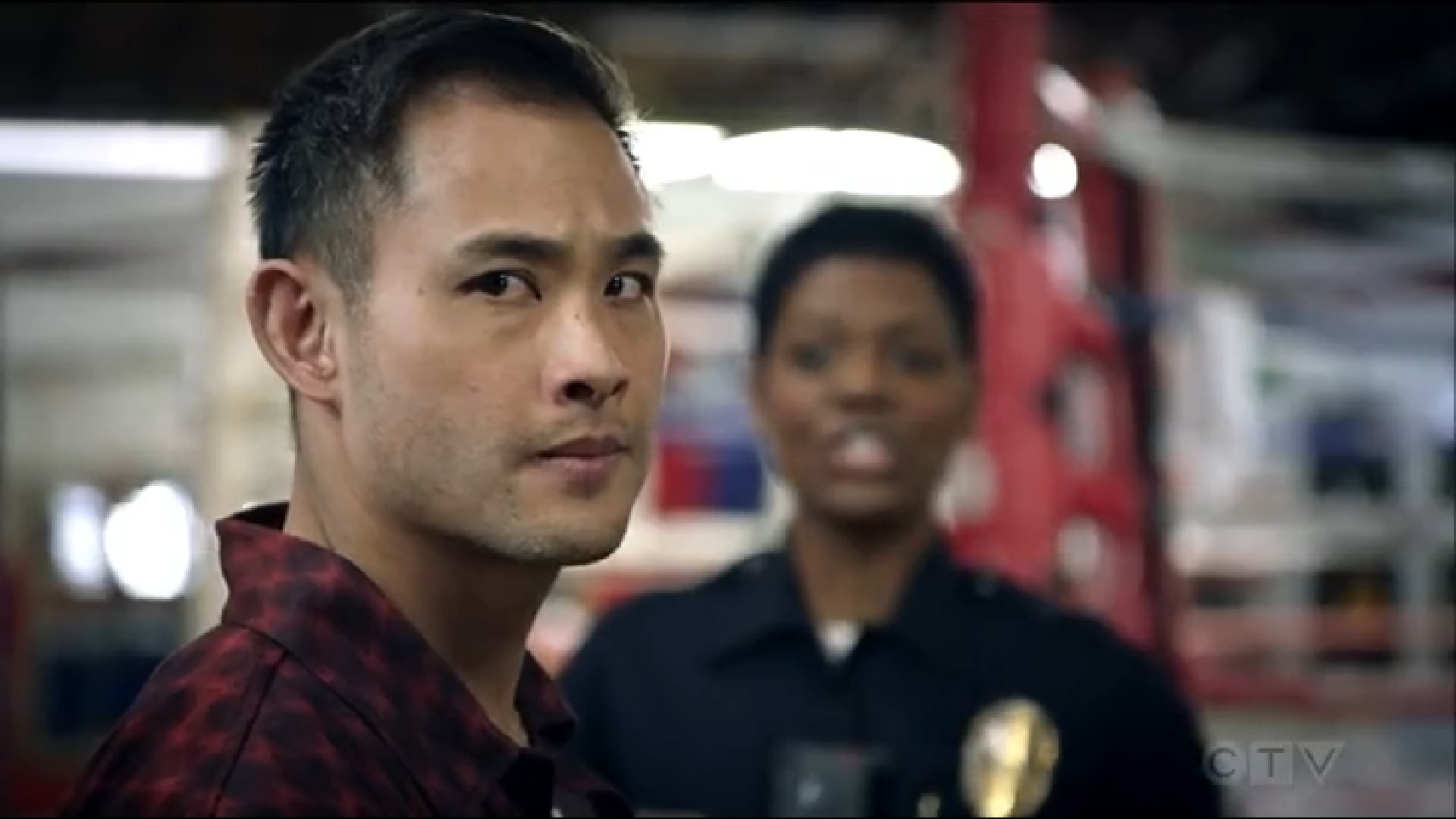 Eugene Shaw makes a brief appearance as Darius Nguyen (a drug dealer) in episode 1
The omission of male Asian and Hispanic cops is not only a missed opportunity. It also fails to correspond with the real ethnic makeup of the LAPD. As the Los Angeles Times observes, the LAPD has evolved from a "predominantly white institution into one that closely mirrors the city's demographics" over the past 25 years. Asian Americans constituted 9.6% of the LAPD in 2015, while African Americans made up 11.2% of the force (Latino Americans made up 44.6% – the most glaring underrepresentation in the show). Lucy Chen's questionable romantic decisions aside, The Rookie should be lauded for attempting to bridge the gender gap in the American police force. The show does next to nothing, however, to address the race gap between America's police departments and the local communities they serve.
Dang Tran makes a one-off appearance as an unnamed car thief in episode 2
You can voice your concerns by contacting the show's writers on Twitter (@therookie) or by submitting a user review on Metacritic.
OFFENDER: ABC
CATEGORY OF OFFENSE: Gender ( White man and Asian female coupling no matter what)
MEDIA TYPE: TV Show
OFFENSE DATE: October 1, 2018