Gender
Ninja Shadow of a Tear: Evil Asian Man Clans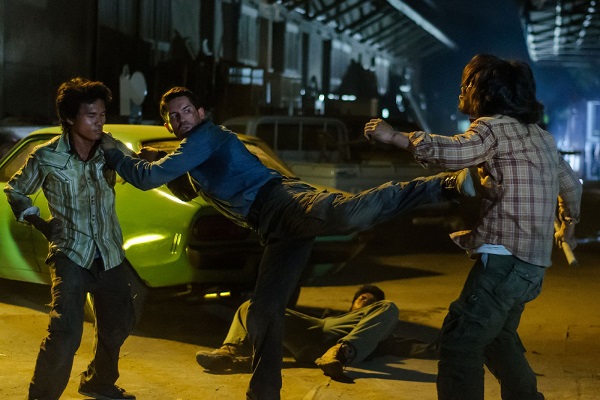 Overview:
Caucasain ninja master, Casey, is back. As a head master, he instructs a bunch of Japanese people on how to use their own martial art, but his life takes a terrible turn when his Japanese wife is brutally murdered. He must seek revenge!
Analysis:
The film is telling you in almost every scene that all Asian men are bad and inferior. For example, it turns out Casey's wife was killed by an evil Asian man. Who else could it be, but the Asian man who has some of the world's lowest crime rates according to US and Asian government crime statisitics.
Nearly every Asian male character is a villain. Many of them are dispatched by the "superior" white male on the street corner, at the bar, inside someone's living room, etc. None of them have women in their lives. Perhaps they murdered them all just like Casey's wife?
1 – Asian female white male couple
2 – Asian men are villains
3 – White male destroys Asian men
4 – White male destroys Asian men
5 – White male wins and Asian women admirer
6 – Goofy and spineless South Asian taxi driver stereotype with thick accent
7 – Asian male killer of Casey's wife Asian wife is killed in revenge
Conclusion
This entry joins its siblings: Black Hat 2015, The Wolverine 2013, Make Your Move 2013, Beauty and the Beast 2014, etc.
One has to wonder what goes on inside the minds of these writers. What compels them to imagine that practically every Asian man they create on screen is some twisted, evil, and hateful being? It's certainly not their real life experiences since Asian men are the least likely racial / gender group to commit crime – literally, the lowest for every single type of crime in the USA. If it's not a case of art imitating life then what is it?.
Why is there so much hate and racism agains Asian men inside hollywood? What is their agenda?
OFFENDER: Millennium Films
CATEGORY OF OFFENSE: Gender ( Asian males compares Unfavorably to White Man)
MEDIA TYPE: Movie
OFFENSE DATE: January 1, 2019
URL: Click For More