Gender
American Horror Story: Fetishization of Asian women (NSFW)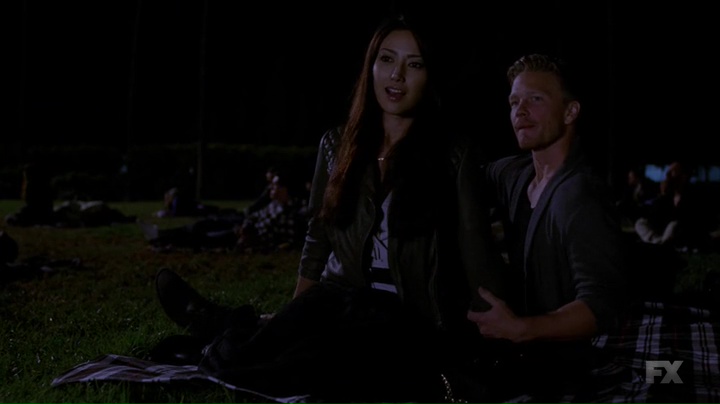 Overview:
Two creepy psychopaths invite an Asian female/white male couple to the hotel for an orgy that ends in a gruesome double murder. Note, some of the pictures are not safe for work.
Scene #1:
The creepy couple establishes eye contact with the Af/wm couple in a park and without speaking, seduction is achieved and they are ready to go for an orgy at a hotel.
Analysis:
More important than the absurd leap in logic that creepy stares leads to orgies is the normalization of Asian female / white male couples on screen. They are shown as perfectly normal – one may say, even expected. You certainly almost never see normal Asian female / Asian male couples. Interestingly, in many depictions of Asian female / white male interactions – no words need to be spoken. The Asian female is just assumed to be ready to have sex at a moment's notice unless she's around an Asian male. When there's an Asian male then contrary to reality, she has to fight to escape from a fictional world of oppressive Asian male misogyny.
Scene #2:
At the hotel, the Asian female is nude with the other two white males. An orgy ends with the creepy couple gruesomely murdering the Asian female and her white partner.
Analysis:
Not much can be said here except the Asian female fulfills another role as an expendable hypersexualized Asian female around white male(s). She didn't speak a single word of dialog. To be fair, neither did her on-screen partner.
Conclusion:
This is just another in the thousands of reinforcements of Asian female / white male couples and the role of the hypersexualized Asian female. By the way, sick one-sided portrayals like this have real life consequences.
OFFENDER: FX
CATEGORY OF OFFENSE: Gender ( Asian Woman is disposable, sexual plaything)
MEDIA TYPE: TV Show
OFFENSE DATE: January 1, 2019
URL: Click For More