Gender
Why are Asian American men excluded from Station 19 (and Shondaland as a whole)?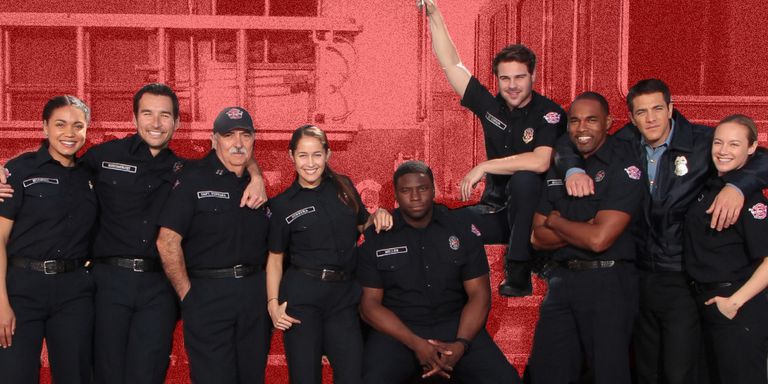 Given Shonda Rhimes' highly influential position in the TV programming industry, the consistent erasure of Asian American men in her popular fictional worlds is a major cause of concern. Station 19 (March-May 2018) is a firefighting drama and spin-off of the highly successful Grey's Anatomy (2005 – present, 317 episodes and counting). It stands as one of the few remaining TV series to be produced by Shondaland (Rhimes' TV production company) to air on network television. (Rhimes signed an exclusive four-year deal with Netflix in August 2017).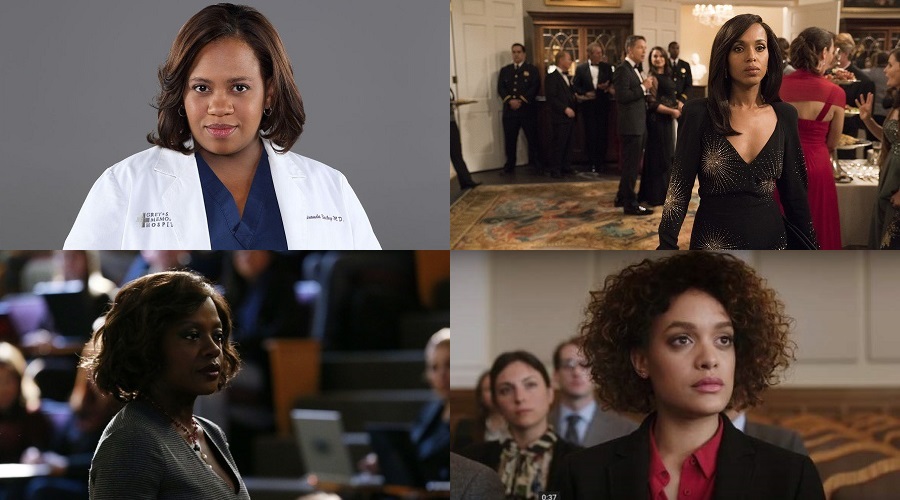 Shondaland has been lauded for emotionally complex representations of black women in leading roles and high powered positions.
Rhimes has earned much praise for the diversity of her casts, which include women in powerful positions, queer characters, Asians without accents, and depoliticized interracial romances. Despite being set in Seattle (where Asians are the largest minority group), neither Grey's Anatomy nor Station 19 featured a cast that was significantly Asian. This problem had already been flagged back in 2015 by Gil Asakawa, in a guest blog post for Angry Asian Man. Asakawa shared how he and his wife had gone "cold turkey" on Shondaland productions after Sandra Oh's departure from Grey's Anatomy made the "pre-1965 immigration quota on Asians" painfully obvious.
The two supporting Asian female characters in Station 19 may not rival the gravity of Dr. Cristina Yang's presence in Grey's Anatomy, but they do widen the scope for female Asian American representation. Disney Channel alumnus Brenda Song stars as JJ, a free-spirited music reviewer who is a fan of Prince. Jee Young Han features more briefly as Charlotte Dearborn, a tough fire lieutenant from another fire station that competes with two of the show's lead characters for the Captain position.

The steamy love triangle is a cornerstone of many Shondaland projects, and Station 19 does not step away from this formula. In the show's pilot, Andrea "Andy" Herrera (Jaina Lee Ortiz) has sex with her white high school boyfriend (now a cop) despite still being involved with Jack, a white male colleague who is also in the running as Captain. After Seth (JJ's white "hook-up friend") dies in a fire accident, she initiates a steady relationship with Dean, the black firefighter who saved her. Charlotte has far less screen time – but enough to appear as a one-night stand for Maya, Andy's bisexual colleague.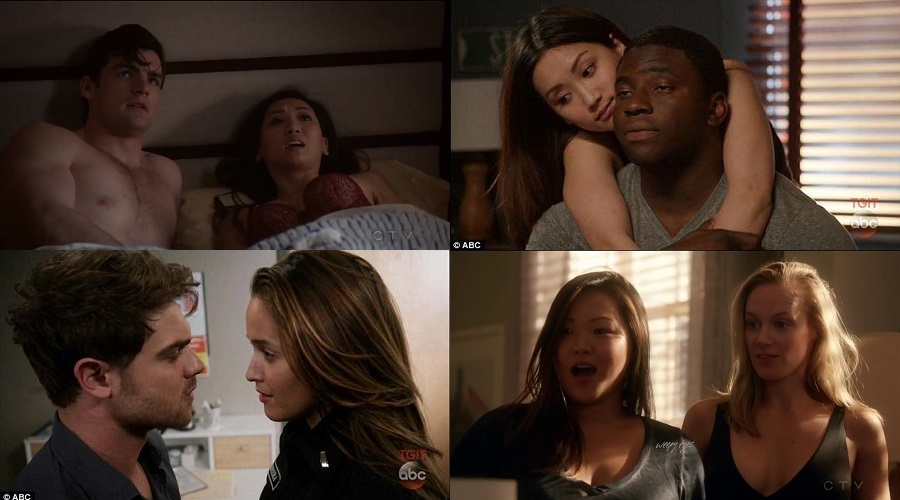 The interracial romantic and sexual pairings in Station 19
Shondaland productions – and Rhimes herself – rarely address race directly, but there is a curious racial logic that repeats itself between Shondaland's different visions of a multicultural, "postracial" and "colourblind" America. Many reviewers have noted that its high-powered black female characters nearly always become romantically/sexually entangled with powerful white men. Meanwhile, the white, Latina and Asian American female characters become involved with either white or black men (or women, in the case of Callie Torres). There are black couples and white couples, but no Asian couples or Latinx couples. (These dynamics also appeared on ER (1994-2009), another highly popular TV medical drama series).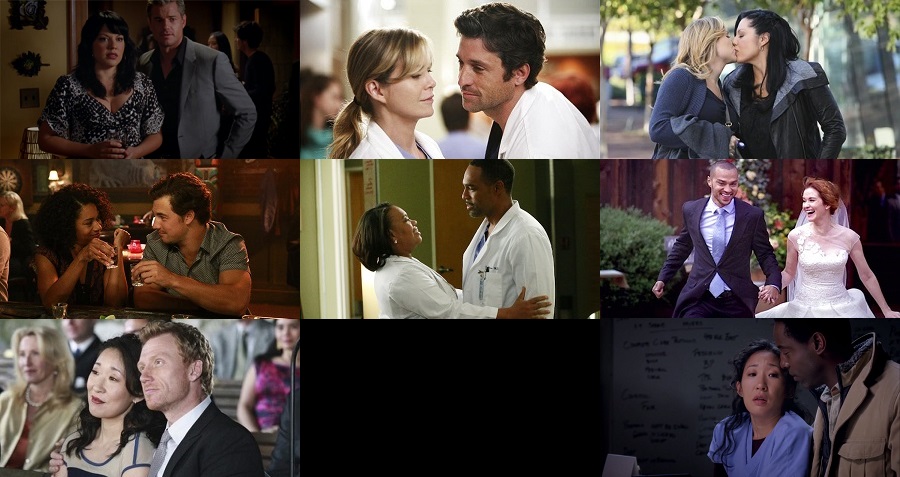 Asian American and Latino men have been systematically excluded from the "interracial romantic utopia" depicted by the past 14 seasons of Grey's Anatomy
Kristin J. Warner, a media scholar and author of The Cultural Politics of Colorblind TV Casting (2015) has argued that Shondalands' practice of blindcasting and general disavowal of identity politics ultimately presents racial differences "in ways that will cause the least amount of discomfort to white audiences while providing an illusion that under liberal individualism, the marketplace will do right by historically marginalized individuals." Rhimes often deflects any discussion of intentionality when it comes to her interracial pairings, but she has been explicit about her commitment to diversity and aversion to racial stereotyping:
"And with casting, I don't care what color they are. If a Black man comes in and he's great for a part and a White woman comes in and she's great for the part of his wife, well then, suddenly it's an interracial couple. And I don't care. It's about who's the most talented getting the parts."
"I remember everybody in the room looking at me like I was crazy. But I was like, 'There will never be any Black drug addicts on our show. There will never be any Black hookers on our show. There will never be Black pimps on our show'. A lot of shows feel the need and enjoy stereotyping and we're going the other way. [Perpetuating stereotypes] isn't something I'm interested in promoting."
-Shonda Rhimes, Ebony Magazine (2005)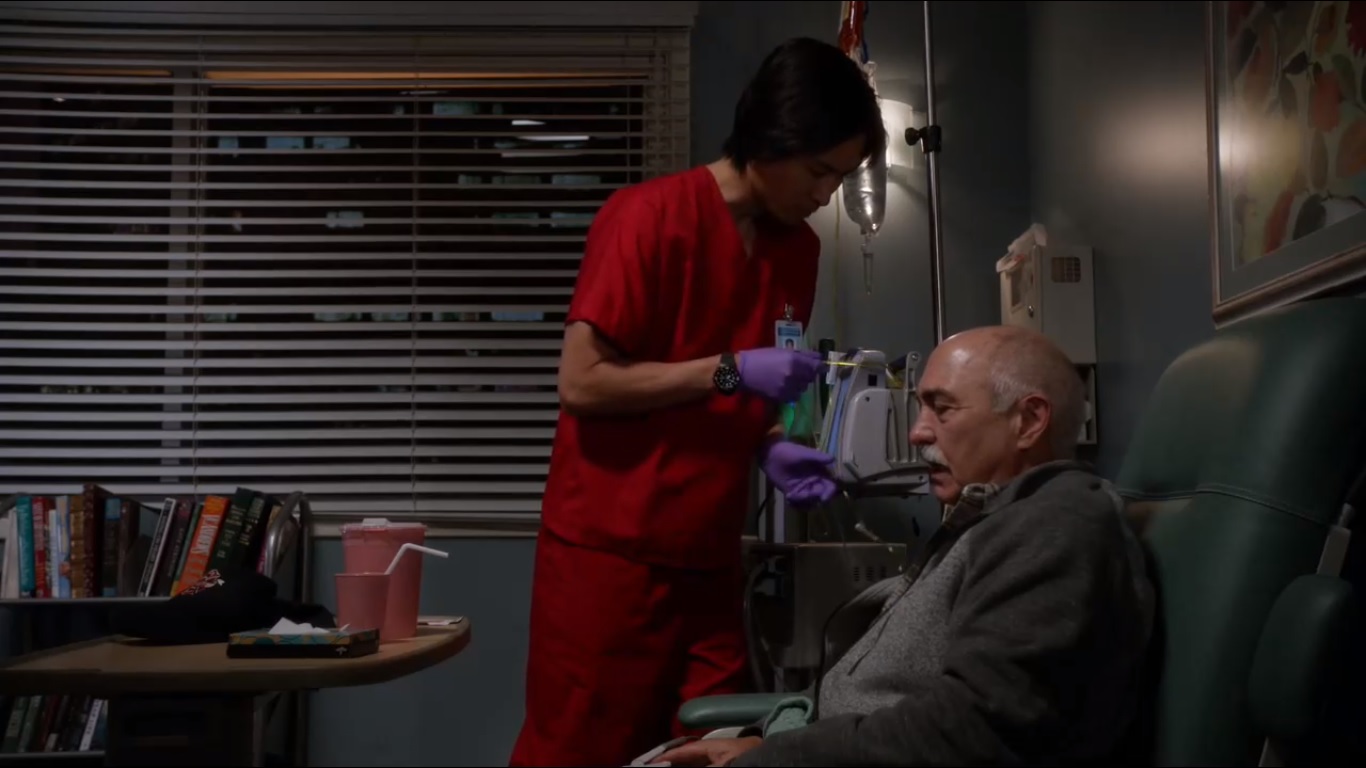 Nurse John (Roy Vongtama) appears briefly in one episode of Station 19
And yet, Shondaland does perpetuate the long-standing Hollywood stereotypes that emasculate and desexualize Asian men. Myra Washington, an associate professor who specializes in both Asian American and African American studies, has argued that the black-Asian coupling in Grey's Anatomy ultimately "rely on traditional Black masculine and Asian feminine tropes that are deeply rooted in historical stereotypical representations of Black masculinity and Asian femininity." The invisibility of Asian men as heterosexual love interests also perpetuate notions of their undesirability and unsuitability as romantic partners (even for Asian women). There is an instance where the presence of an Asian man is mandated by genetic logic (Cristina's father has to be an Asian man), but he is excised from the plot (her father died in an accident when she was a child; her mother remarried a Jewish man).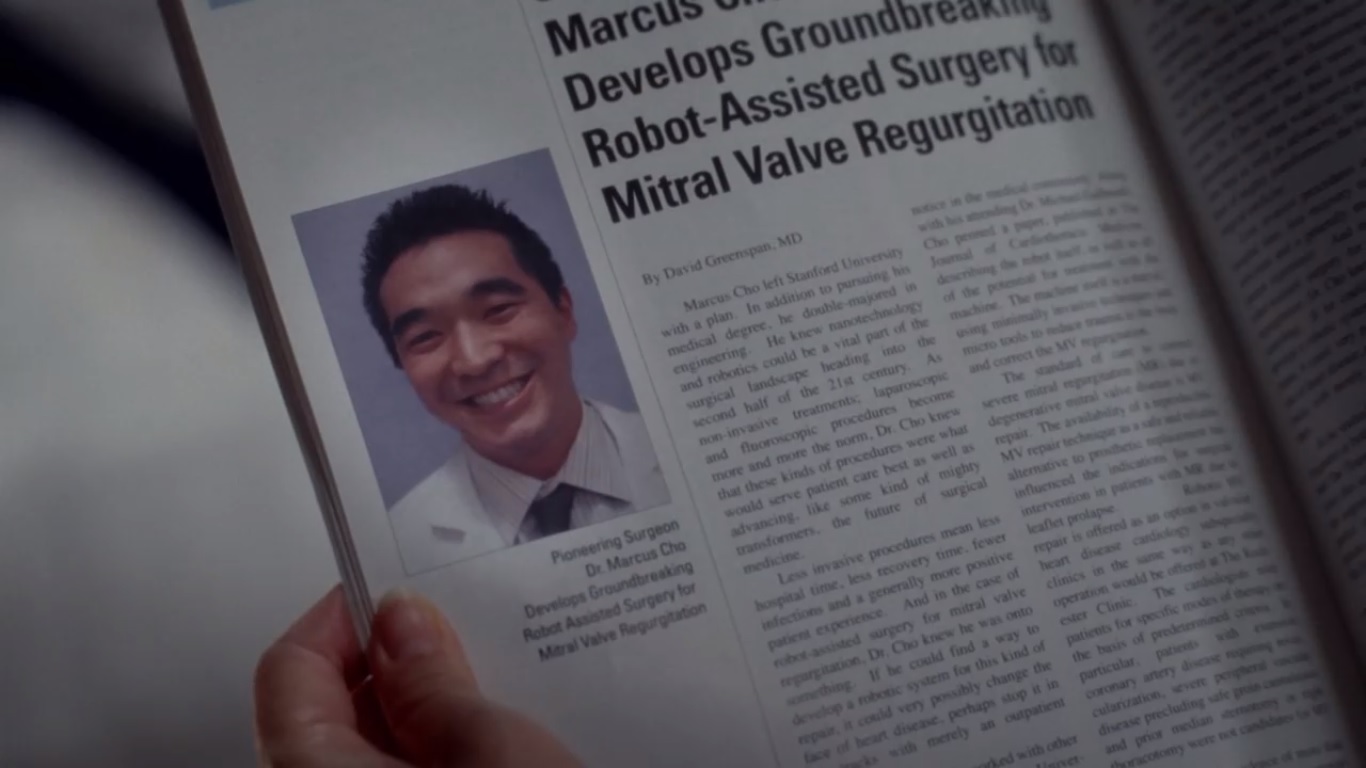 Present in the most marginal sense: in episode 18 of season 9, Dr Christina Yang is shocked to see Dr. Marcus Cho – she dismissively describes him as "a high-functioning moron who was a year behind me at Stanford" – being lauded for his professional accomplishments in Surgery Today magazine
One can nevertheless argue that Shondaland has been relatively progressive in its inclusion of gay Asian men. Walter (Jack Yang) appeared with his longtime boyfriend Joe (Steven W. Bailey) in four episodes of Grey's Anatomy (between 2005 and 2007). (They eventually adopt a pair of black twin girls together). Half-Filipino actor Conrad Ricamora's character Oliver Hampton was eventually promoted to a recurring character on How to Get Away with Murder. However, both men are paired with white partners that are characterized as being more dominant and assertive than they are – characterizations that unfortunately contribute to the longstanding feminization of Asian men in popular culture.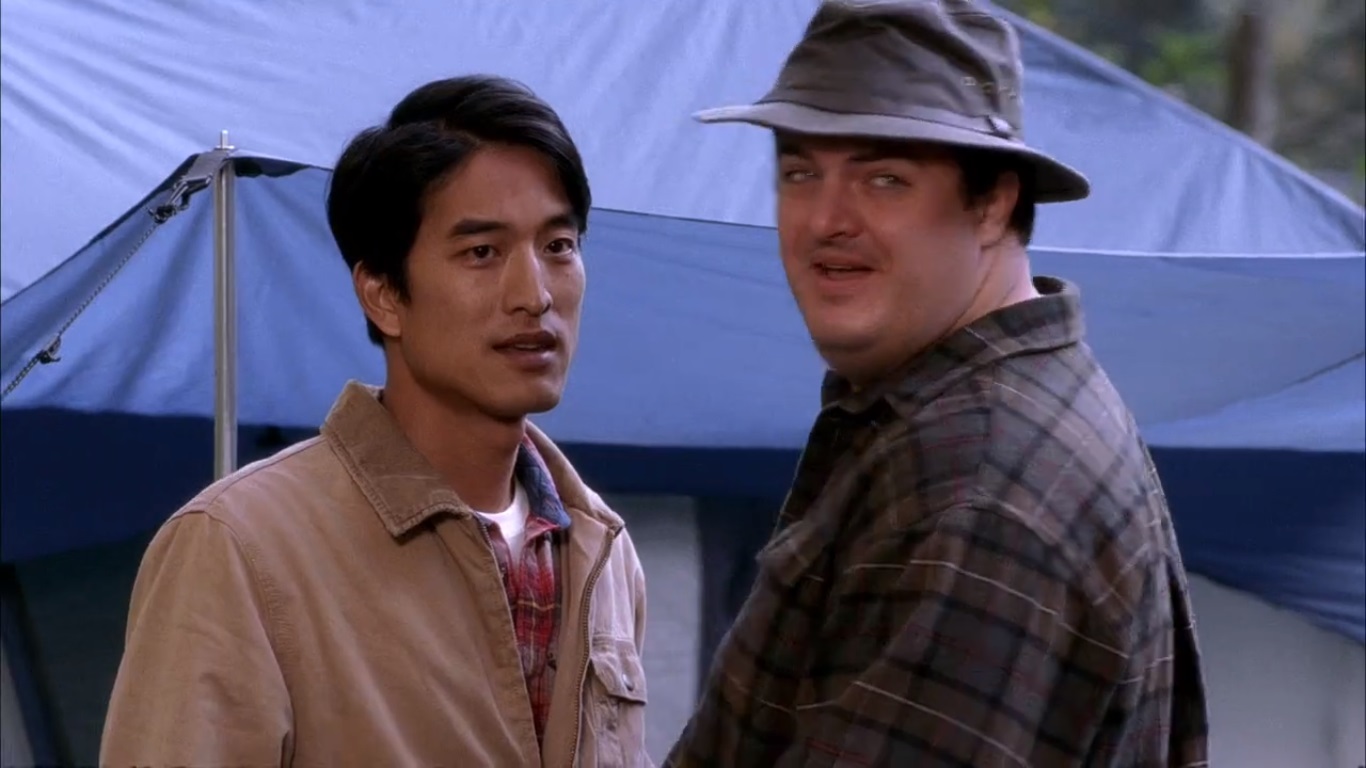 Walter and Joe in "Where the Boys Are". They eventually adopt a pair of black female twins together.
Jay Hayden's Travis Montgomery – "an openly gay firefighter who is well-liked, funny, fun and always plays by the rules" – could have stood as an exception to Shondaland's consistent feminization of Asian men (regardless of their sexual orientation). Unfortunately, the show's writers decided not to utilize Hayden's biracial identity (he is half-Korean and half-Irish). With a surname of French origin, ethnically ambiguous physical attributes, and no discussion of his ethnicity, he effectively becomes another white male character in the show's main cast.
Travis dines with Grant (Sterling Sulieman), a sous chef and potential long term romantic partner
OFFENDER: ABC
CATEGORY OF OFFENSE: Gender ( Asian males are Omitted)
MEDIA TYPE: TV Show
OFFENSE DATE: March 1, 2018