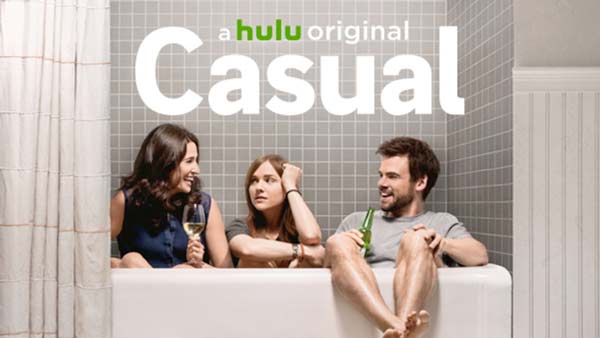 On the surface, there is nothing overtly offensive about Korean-American actress Jamie Chung's brief appearances as Tina in season 3 of Hulu Golden Globe-nominated dramedy Casual (2015 – 2017). Audiences of the show got a short glimpse of Chung in the first episode of its latest season ('Ashes to Ashes') when Tina is revealed to be Valerie's (Michaela Watkins) 28-year old new landlord. Deadline had previously noted that her character would possess the "self-confidence of a pretty, debt-free, part-time freelance artist whose parents bought her a house"; Chung's peppy, individualistic, opinionated and extroverted portrayal of Tina is a welcomed relief from the passive, meek, mostly silent, and subservient (and potentially dangerous) characterizations that Asian American actresses are often confined to in Hollywood productions.
Tina has little to do in the first episode besides introducing herself to Valerie and throwing parties as the latter – a world-weary divorcee and mother trying to rebuild her life after "a long chain of self-destructive choices that led to the dissolution of a loveless marriage" – drinks a glass of wine on the couch on her own. There is a brief and minor conflict about a broken sink and a plumber who happens to be away on a spiritual retreat, which appears to demonstrate Tina's slight lack of responsibility as a landlord. Valerie, stressed out from the prospect of attending her father's funeral, eventually snaps:
"I don't care where your handyman is. Hire a plumber and have him fix my fucking sink before I get home. Okay? That is your job. That is what you signed up for. And you don't get to check out just because you don't feel like doing the work. Okay? Thank you."
After presumably taking care of the sink, Tina reappears in episode 5 ('Look at Me') as a dating app match to Valerie's brother Alex (Tommy Dewey). Alex agreed to the date simply to serve as his sister's escape strategy from her date with Byron (Chase Crawford), a younger classmate from her theatre workshop that she previously hooked up with. Tina proves to be a lively and engaging conversationalist, however, and she expresses some insightful and 'weirdly passionate' opinions about the reasons behind the popularity of the Tinder-esque dating app he founded and then cashed out on (Snooger). It does not take long for the two of them to establish the romantic chemistry and mutual understanding that Valerie and Byron (who are in the same restaurant) are sorely lacking:
Alex: But here's the craziest part. My whole life, I have been mortally afraid of this: the accidental pregnancy. Being locked into something without being prepared for it. But … when she told me it wasn't mine, I don't know. It kinda broke my heart. Sorry, I know I'm not supposed to say that.
Tina: No. No, you can totally say that.
Alex: I just don't want to be an old dad. And if I keep fucking around for five more years, then what? I wake up, and I'm in my 40's, and my knees fuckin' hurt, and I wonder where my life went.
Tina: Yeah, I totally want a family too. You know, but everywhere I look I see the same messaging. Wait until you're older. Don't sacrifice your dreams to have a family. Everyone says that to me. But what if having a family is my dream?
Alex: Well then, I think that's a wonderful dream.
Tina: Any religious affiliation?
Alex: Agnostic.
Tina: Outstanding warrants?
Alex: Not that I'm aware of.
Tina: Disease-free?
Alex: With quarterly checkups.
Tina: Should we go back to my place?
Alex: I'll call the car.
Alex and Tina's post-coital bliss is nevertheless abruptly disrupted when his Airbnb guest, FX makeup enthusiast Rae (played by Maya Erskine, who is half-Japanese), returns home to party with her friends.
She reveals that he is actually unemployed when asking for permission to extend her stay, and the revelation of Alex's professional aimlessness proves to be an instant deal breaker for Tina (who had previously stated that she wanted "to find a guy who has his shit together"). She makes her exit with unfiltered honesty:
Tina: Look: you're here and I'm here. Different timelines. That's all.
Alex: Is this because of Rae? Because I can evict her. I can do that: just toss her ass right back out on the street. You know? We can do the things!
Tina: The things?
Alex: Yeah.
Tina: You don't have a job. Yeah, I'm sorry.
Tina's financial, professional and emotional independence sets her apart from the common fate of being fetishized as a Lotus Blossom-type; the episode's writer (Harris Danow) and story editor (Rosa Handelman) manage to flesh out a relatively multidimensional character within the limited screen time that Chung has to work with. The incidental inclusion of Tina (and Rae) in a TV show that falls into the "Sad Rich White People in L.A." cinematic genre, does, however, perpetuate a narrow and unfortunately familiar representation of diversity: one where Asian, Black and Hispanic actresses are featured mainly to serve as incidental romantic and sexual interests (but rarely as wives) for the white male lead.
Thanks to the relative abundance of female showrunners and female directors at Hulu (which is responsible for The Handmaid's Tale), Casual succeeds in presenting female characters that are sexually empowered agents, and not mere objects of desire for male co-stars and viewers. One can only hope that Hulu's commitment to promoting female voices and creative visions behind-the-scenes will eventually spill over and benefit contemporary representations of ethnic minorities. For now, the thought of an unemployed and aimless Asian American man being presented sympathetically on screen – as the potential romantic and sexual interest of an attractive and intelligent woman – is unfortunately beyond belief.
OFFENDER: Hulu
CATEGORY OF OFFENSE: Gender ( Asian males are Omitted)
MEDIA TYPE: TV Show
OFFENSE DATE: January 1, 2019