The show featured Andrew (played by Ben Feldman) who orders around the two minority co-workers (Dinesh and Lora) as though they are his to order around. He has them do his dirty work – to find private information on a woman he's interested in. Background: Andrew, Dinesh and Lora all work for a dating company. Zelda is Andrew's love interest, who he meets one day at the office. She is a customer complaining about an issue and Andrew introduces himself.
From Wikipedia: "Zelda enters Wallflower, an online dating service, to file a complaint. Her best friend, Stephie, set up her account and profile, which led to a horrible date. Andrew and his co-worker/roommate Stu greet her, and Stu starts feeding him pickup lines. Andrew escorts her to the proper department, and they discuss if they have already met. Later…he asks her out for a drink. At the bar, a familiar tune plays, and he thinks she attended a concert where he admired her from afar and imagined life together with her. She insists it wasn't her and ends the date. Convinced it was her, he enlists the help of two programmers from work, Dinesh and Lora, to take her Wallflower profile and find online evidence of her at the concert that night."
Dinesh is an Indian man (played by Parvesh Cheena) and Lora is an East Asian woman (played by Hong Chau). In Season 1 – Episode 1 ("A is for Acquaintances"), Andrew asks Dinesh and Lora "Do you believe in soul mates?". His white friend tells him, "Dude, they're programmers. They only believe in logic and math". While Asians may be over-represented in science and engineering, it's scenes like this which imprint a broad stereotype on the viewing audience that Asians are strictly one-dimensional; the implication is that they are not lovers, they are not exciting, dynamic, and personable. They are robots. In response to Andrew's question, Dinesh whiteboards the idea of negative one, taking on the math cue. It suggests that Asians even process things like love in some nerdy, unromantic way.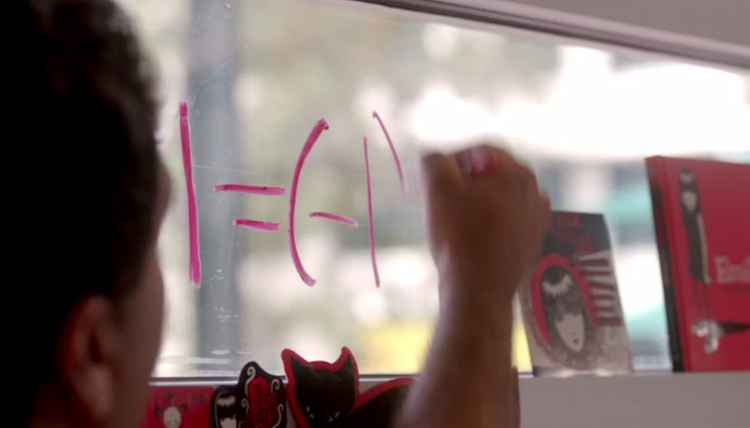 Comedy is used as an unassailable way to cut down certain kinds of people. Unassailable because the defense is "it's just a joke". However, insofar as Asians are not seen as well-rounded people, they will be seen perpetually as outsiders and "immigrants" even if born here.
Andrew is a peer to Dinesh and Lora working for the same dating company. Somehow he directs these two Asian peers to do his personal work. Its highly unethical for them to use their position as employees at the dating company to prowl through a customer's profile. But they agree to do it. It is as though it is an honor for them to help someone like Andrew. They don't just comply, they happily do so.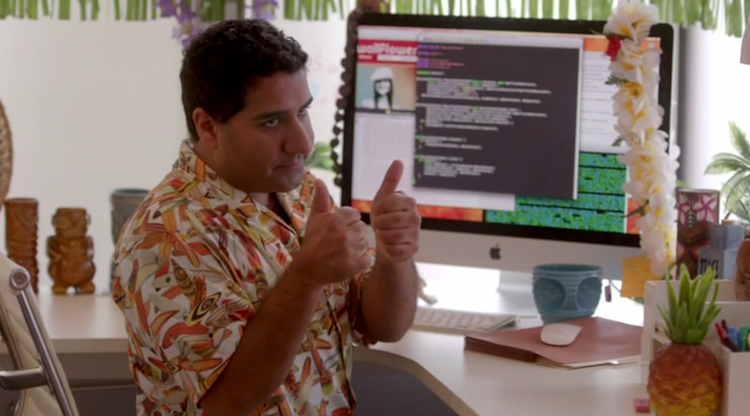 The show not only depicts Asians as somehow having lower status so as to happily carry out favors for a white peer, it perpetuates other negative stereotypes of Asians. Dinesh is depicted as an irredeemable nerd, a mating market loser. On the finale episode ("M is for Meant to Be") after which this series was thankfully cancelled, Dinesh announced he had no girlfriend for no particular reason.
OFFENDER: NBC
CATEGORY OF OFFENSE: Self-Aggrandizement ( Whites as Master)
MEDIA TYPE: TV Show
OFFENSE DATE: January 1, 2019