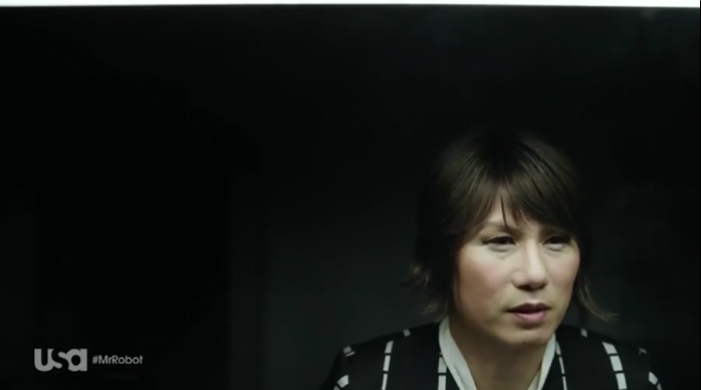 WARNING: HUGE SPOILERS AHEAD
PLOT: Elliot (Rami Malek) can debug just about any program, but his life. As a schizophrenic drug addict with social anxiety, he has his ups and downs as he tries to connect with people.
SCENE #1: We meet an Indian man named "Ron" or short for Rohit Mehta (played by Samrat Chakrabarti). He is the owner of a huge pedophile site.
In contrast, we meet a white character in a similar situation. He is the cheating boyfriend of Elliot's psychiatrist, "Dr. Krista Gordon" (played by Gloria Reuben). The boyfriend is actually married but is "seeing" several other women. Elliot threatens to reveal that one of the women he's having sex with is underage, but immediately we find out that Elliot was fabricating the tale.
ANALYSIS #1: The Asian man, Ron, gets thrown under the bus for a universally reviled crime: pedophilia. Yet, the white character is immediately absolved of the same crime. Isn't it strange that outside of western media's fictional world, a place known as real life, White men are by far the biggest group of pedophiles?
'They're almost all white males between the ages of 25 and 45.'
source: Pedophile profile: Young, white, wealthy | ZDNet
SCENE #2: "Lloyd Chung" (played by Aaron Takahashi) is a techy co-worker at Elliot's workplace. Elliot's boss invites a few of his co-workers, who happen to be all White men, to a dinner party and everyone brings a significant other except Lloyd.
ANALYSIS #2: Seeing a sexually undesirable Asian man contrasted against sexually desirable White men is a decades-long smear campaign. Even Elliot, who struggles with schizophrenia and social anxiety, brings a date, making the contrast between Lloyd and the other men more stark.
SCENE #3: The viewers are later introduced to an underground hacker group, "fsociety," whose goals include the takedown of Evil Corp. One of the fsocietyhackers attempts to get in touch with her "Chinese contact." So of course she goes to a ping pong club, where of course everyone is Asian.
We later learn that her contact is actually a White guy.
ANALYSIS #3: The literal and figurative image of the White "Chinese contact" appearing in a sea of yellow faces reinforces the stereotype of rugged individualism of Caucasians.
SCENE #4: Shayla (played by Frankie Shaw) is Elliot's neighbor, drug dealer, co-dependent drug addict, friend with benefits (casual sex), and finally, girlfriend. Shayla also lives in a predominately Asian-centric part of town. Unfortunately, even though many denizens are Asian, none make it into the plotline beyond the role of "background noise."
Shayla
Trenton, Iranian fsociety member who has a little "Allah Akbar in her."
Fernando Vera, ethnic minority and triple threat to society.
ANALYSIS #4: This is the third reinforcement of creepy/desexualized Asian man – only this is implicit by their absence while the dysfunctional White protagonist is sexualized.
The negative ethnic portrayals aren't limited to Asians. Iranian hacker "Trenton" (played by Sunita Mani) referred by another hacker to a little bit of "Allah Akbar in her," a reference to her religious fervor or insanity. Someone put her on suicide (vest) watch. Worst is the only Hispanic character in the show, Fernando Vera (played by Elliot Villar) is portrayed as a drug dealer, gangster, rapist, and Shayla's killer.
SCENE #5: Finally, BD Wong plays the elusive White Rose, head of the group of Chinese hackers known as the Dark Army. He is a transgender woman.
ANALYSIS #5: The message is clear. Asian men in hollywood must not portray traditional masculine traits such as strength, leadership, honor, or even be classified as a man.
SCENE #6: It should be mentioned that Elliot might be half Asian. Although the actor who plays Elliot, Rami Malek, is White/Egyptian, his mother in the show is portrayed by an Indian actress. We don't have conclusive proof in the series yet, but we see that she is emotionally distant and even physically abusive during Elliot's childhood flashbacks. We don't know if this is his psychological illnesses at work.
ANALYSIS #6: It's conjecture at this point, but here's what we do know about half-Asian children (the vast majority come from Asian female with White male couples). Contrary to western media portrayals of happy Asian females White male couples, here are the results and they have very little to do with "abusive Asian mothers"….
Biracial Asian Americans are twice as likely as monoracial Asian Americans to be diagnosed with a Psychological disorder
source: Biracial Asian Americans and Mental Health :: UC Davis News & Information
Adopted teenagers from foreign countries are more than four times more likely to attempt suicide than other teenagers. 'People have preconceptions that [women of Asian descent] are promiscuous, prostitutes, source: Racism behind suicide attempts – The Local
Who has been sprading that "harmless" stereotype of expendable Asian female sex slave in the western media?
CONCLUSION: The portrayals of Asians improve as the first season progresses. Asians are seen as regular employees of both Allsafe Security (the internet security firm where Elliot works) and Evil Corp (the "big bad" conglomerate). Help steer this story in the right direction. Send them a message and let them know that Asian people are watching their story! To quote Mr. Robot himself, "Are you a ONE or ZERO? Are you going to ACT or NOT?"
OFFENDER: Universal Cable Productions
CATEGORY OF OFFENSE: Self-Aggrandizement ( Reinforces Stereotypes)
MEDIA TYPE: TV Show
OFFENSE DATE: January 1, 2019